Air Purification Systems
Bacterial and Virus Removal
"This virus apparently is similar to other viruses that we previously tested. There is every reason to believe that RGF technologies would be effective in reduction of COVID-19."
James Marsden, Ph.D.
BioSecurity Expert
Kansas State University
Download the RGF
COVID-19 Technical Bulletin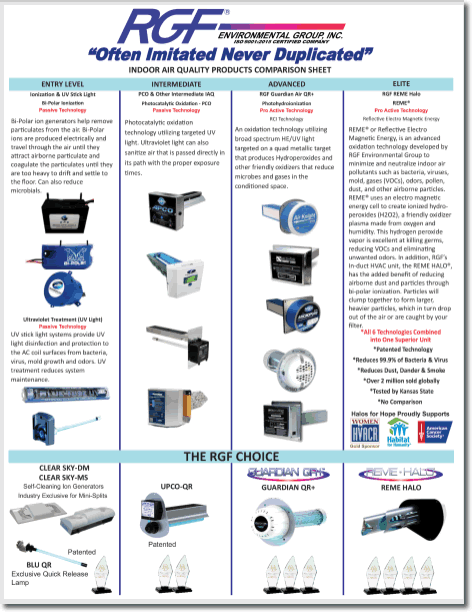 Bar-Co Mechanical can install RGF-BioControls systems that have been proven to remove 99% of pathogens and even viruses.*

The RGF REME HALO [Reflective Electro Magnetic Energy] is an advanced oxidation technology developed by RGF Environmental Group to minimize and/or remove pollutants like bacteria, viruses, molds and other pathogens. The REME has been tested and shown to remove up to 99+% of virus similar to COVID-19.

RGF Systems Currently Used in Hospital Environments
RGF-BioControls has product lines of HEPA filtration units designed and proven to reduce risks associated with airborne infectious pathogens in hospital settings.

Call us to discuss having your A/C System inspected - we will offer solutions to help you get clean and purified air into your home.

* No system has been proven effective on COVID-19 which is a new virus.
APCO Whole House
DeTox Systems
APCO uses a combination of UV light and activated carbon cells to reduce airborne odors, molds and other germs in your house.
Indoor pollution can be as bad as the outdoor air - get a purification system to help keep your home healthy!


Disclaimer: ALL UV Air Purification Devices are energized/activated when the HVAC system cycles on for heating, cooling or for continuous on for fan/blower.